CAS Number 41444-62-6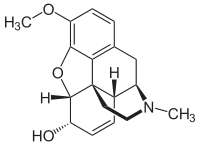 Codeine or 3-methylmorphine (a naturally occurring methylated morphine) is an opiate used for its analgesic, antitussive, antidiarrheal, antihypertensive, anxiolytic, antidepressant, sedative and hypnotic properties. It is also used to suppress premature labor contractions, myocardial infarction, and has many other potential and indicated uses. It is often sold as a salt in the form of either codeine sulfate or codeine phosphate in the United States and Canada; codeine hydrochloride is more common worldwide and the citrate, hydroiodide, hydrobromide, tartrate, and other salts are also seen.[2]
Codeine is the second-most predominant alkaloid in opium, at up to three percent. Although codeine can be extracted from natural sources, a semi-synthetic process is the primary source of codeine for pharmaceutical use. It is considered the prototype of the weak to midrange opioids (tramadol, dextropropoxyphene, dihydrocodeine, hydrocodone, oxycodone).
It is on the World Health Organization's List of Essential Medicines, a list of the most important medication needed in a basic health system.
Source: Wikipedia
Find producers of Codeine Phosphate in our database.
Former APIs of the week: